Description
This klewang, cleaver or machete

theatrical weapon latex / foam. Movie stunt prop.
Content of this machete /  klewang / cleaver knife / stage weapon: XX

Dimensions / sizes : 58 Cm. 

Colour : wood & steel
Brand: theatrical weapon
Did you know? In our webshop you'll find more prop tools, knifes and axes.
This Klewang or cleaver / hammer is made of rubber and latex. The knife has a total length of 58 centimeters!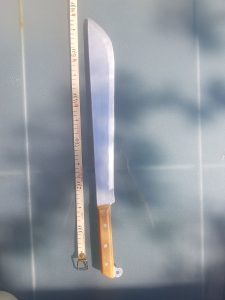 Machete 58 Centimeters.
---
On wikipedia you can find more information about props in general.