Welcome to your breakaway propstore.
We provide you with sugar glass  breakaway bottles, windows, vases and other props.
Recently, we also started supplying (theatrical) weapons in rubber and latex and balsa wood breakeaways!
Europe's largest online breakaway propstore!
In the past, glass props that were readily breakable were made from corn syrup, water and – as the name seems to suggest – sugar. The production of these breakaways worked well for a long time, especially in the case of coloured glassware. On clear glass, however, it left a distinctive yellowish sheen. This did not look good on camera, so another option had to be considered.
This is why break-aways such as bottles and windows are nowadays made of synthetic materials, so that they look real on camera. Another advantage of these synthetic materials is that these break-aways can get wet without melting and can easily be filled with a liquid.
More information on the use of sugar glass breakaways can be found
here.
We currently have a temporary discount promotion. Have a look at these break a way's !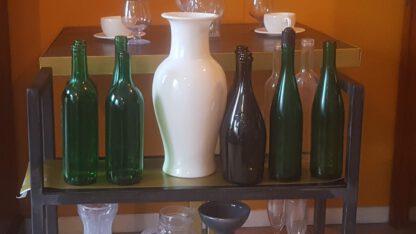 1000 and 1 customers preceded you from the professional TV-Film and theater industry. You can find some of them below …