Description
Balsa wood fruit boxes. LxWxH : 50 x 35 x 20 Other sizes of balsa wood fruit boxes on request!
The standard balsa wood props or breakaway props we use delivery are therefore all unique. This is because each object has a different humidity, a different density, structure and more or less a different colour. Balsa wood props will, depending on use, probably need to be cut. This way you know better in advance where the prop or prop will break.
However, you never have a 100% guarantee because there are without you being able to see it, weaker spots are in the wood than where you are have cut. You do have some certainty with cutting. A box cutter works best for this.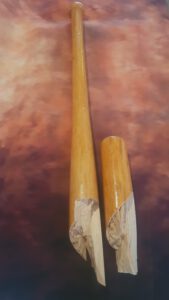 As with the baseball bat on the left you see after breaking hardly that the balsa wood is incised. In fact, you can with a little lucky the broken pieces fit back together. Do you want to put the pieces together then we would recommend hotglue. Then use your regular wood glue can the glue become stronger than the wood and you don't know where the bat is will break.
Please Note:
Balsa wood is very sensitive to moisture. This is partly due to the very open structure of the wood. Try to keep balsa products dry!

Every now and then, and sometimes you really can't avoid it, 'spocht' or 'weather' (moisture fungus) will occur. Small, dark dots or stripes in wood. ( 

https://en.wikipedia.org/wiki/Foxing )
Look at our tips and tricks about using balsa wood