Description
Balsa wood breakaway baseball bat
 We can also copy an existing baseball bat for you. Just let us know! 
Content of this breakaway is XX
Dimensions / sizes: ca 78 cm x 6 cm.
Color  :  No paint or coating
Brand:
For the correct and safe use of movie stunt prop breakaways, visit the Tips & Tricks balsa wood page.
---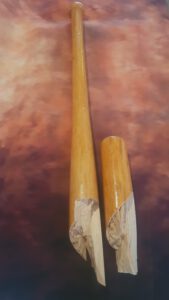 Balsa wood baseball bat
Balsa wood is the lightest kind of wood out there. It is light in color too. That's why it's used in the making of props for movies and plays is quite common. We come up with the best balsa wood props or movie props in the market. Our products are unique because of the unique features that each product has. Every product that we make has different moisture, structure, and different density too. Most of the products differ in their color and texture. Balsa wood props are mostly used in action movies and dramas when the action requires the actor to break the bat.
You must have seen in movies and plays that during a fight, the actors use a different kinds of weapons. Sometimes it's a baseball bat. This product is made, keeping that in mind. It's a breakaway product, so it is easy to shatter in one blow. You can use this to perform any kind of action during your play. The Balsa wood product ensures the safety of the actor and the entire team. This Balsa wood baseball bat looks real in video productions and movies that'll add life to your scenes.
---

On wikipedia you can find more information about props in general.