Description
Breakaway sugar glass window sheets
Content of this item : XX

Dimensions / sizes : 

33 cm x 45 cm x 0,4 cm.
Colour : Clear / transparant
Brand: None
Breakaway glass sheets, windows, doors etc..
Did you know? You can even get all our breakaway sugar glass window sheets in different colors.
We have sugar glass panes in 4 different 'standard' sizes: 26 x 35 cm. 33 x 45 cm. 50 x 50 cm. 80 x 80 cm.
Other sizes are possible at an additional cost. Max size is approx 180 x 90 Cm.
For the correct and safe use of a sugar glass breakaway,  visit the Tips & Tricks page.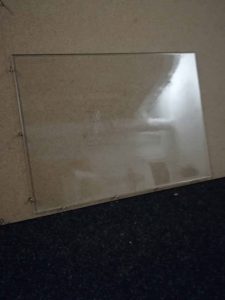 ---
On wikipedia you can find more information about props in general.